ARMADILLO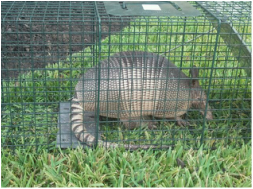 Their most distinctive trait is their armor. This bony, scaled shell protects it from attacks by predators, which they seem to have few of. Adults are 26-32 inches long including tail, and weigh 10-16 pounds. Armadillos are nocturnal, but on occasion they will forage during the daytime. They eat many insects, or other invertebrates, and some plants, but they seem to love grubs and earthworms most. They are prolific diggers, and often dig in search of insect larvae and earthworms. They generally have poor eyesight, but an excellent sense of smell. They live in underground burrows that they dig, and they often have several in their home range.


Nuisance concerns:

Armadillos can dig! You may wake up to find deep holes throughout your lawn, a result of the armadillo's habit of digging for grubs and earthworms. Soft or sandy soil is ideal to an armadillo, and easy to dig through. Armadillos might also choose to dig a tunnel (burrow) under your deck, porch, shed, or even house. You might suddenly find a large hole next to your house with a lot of dirt piled behind it, about 6-8 inches in diameter. This is an armadillo burrow. They can move quite a bit of dirt, and potentially dammage the stability of a structure if they remove the supporting soil beneath it. The picture below is a normal armadillo burrow.

---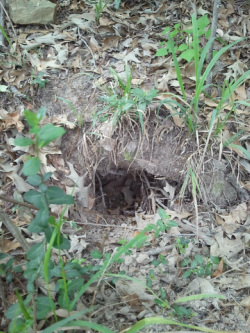 OPOSSUM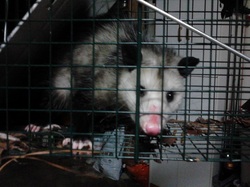 Opossums are the only North American marsupials. The females of this group have a pouch on the belly where the young are carried and nourished for a time after their birth. Opossums are 2-3 feet long including the naked scaley tail, and weigh 8-14 pounds as adults. They live in a variety of habitats. The are nocturnal animals. Opossums are omnivores, and will eat almost anything, including insects, snails, rodents, berries, fruit, grasses, leaves, carrion, pet food, and garbage. They prefer meat to vegetables.
Nuisance concerns:
Opossums are prolific breeders, and need places to live. Oftentimes human structures, such as the undersides of porches and sheds provide ideal habitat. Opossums can raid garbage cans and steal pet food. They can also carry parasites and diseases, although rabies incidents are much less frequent than in other animals, such as raccoons. I often encounter opossums living in attics, where they make a terrible mess with their droppings, and a lot of noise. Opossums are also the most common dead animal that I deal with, because they don't live long in the wild, and tend to die under homes and in attics.The average life span of an opossum is 2 years and 3 max.
Call or text 936-445-9924 or e-mail
thacrittergetter@gmail.com
---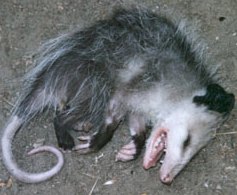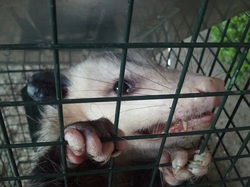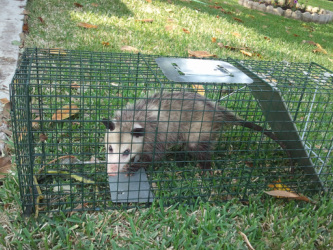 Keywords and Tags:
animal conrtol, montgomey county animal control, animal control in montgomery county, animal removal, spring animal removal, spring animal control, rodent control, rodent removal, rodent control, conroe animal control, conroe animal removal, tomball animal control, tomball animal removal, houston animal control, houston animal removal, magnolia animal control, magnolia animal removal, wildlife control, wildlife removal, wildlife trapping, animal trapping, rat, mice, mouse, opossum, nutria, squirrel, raccoon, skunk, armadillo, dead animal, squirrel removal, squirrel in attic, squirrel control, opossum removal, opossum trapping, raccoon removal, raccoon trapping, skunk removal, skunk control, skunk trapping, attic trapping, armadillo removal, feral cat removal, pest removal, pest control, conroe pest, houston pest, tomball pest, magnolia pest, montgomery county pest, houston wildlife, conroe wildlife, tomball wildlife, same day service, get rid of squirrel, get rid of shunk, get rid of opossum, get rid of raccoon, get rid of rats, get rid of mice, rat trap, mouse trap, pest control, squirrel in attic, opossum in attic, raccoon in attic, rats in attic, roof rats, magnolia pest control, conroe pest control, woodlands pest control, woodlands animal control, woodlands animal removal, woodlands squirrel removal, houston pest control, tomball pest control,woodlands rodent control, houston rodent control, conroe rodent control, woodlands squirrel removal, spring pest control, nuisance animal, nuisance pest, nuisance rodent, nuisance wildlife, critter control, critter removal, critter trapping, critter relocation, critter getter, nuisance critter, conroe critter, tomball critter, houston critter, magnolia critter, woodlands critter, montgomery county critter, dead critter, critter in attic, critter under house, squirrel removal houston, squirrel removal conroe, squirrel removal woodlands, squirrel removal spring, fox removal, fox control, bobcat removal, bobcat control, coyote removal, coyote control, feral hog removal, preadator removal, glenloch farms. advocare