SKUNKS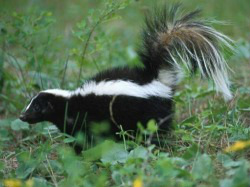 Skunks are easy to recognize with their bold black and white coloring. While most animals prefer camouflage, a skunk's distinctive coloration serves as a warning of its potent attack. Using special glands below the tail, skunks can spray their powerful scent up to 15 feet. This scent burns an attacker's eyes, and causes temporary blindness. Of course, the stench is too much for most animals to bear, and serves as a strong warning against future attacks. Adult skunks grow to about 22-30 inches and 8-12 pounds. Skunks are primarily nocturnal. Skunks are omnivores, and will feed on almost anything, including small rodents, worms, insects, grubs, carrion, fruit, garbage, and pet food left outdoors.



Nuisance concerns:

A skunks smell can cause a headache to many homeowners, particularly when skunks choose to live under a porch or shed.No homeowner appreciates this scent under their deck. Skunks tend to dig quite a bit, when they are "grubbing", which can ruin a yard. A skunk in the area poses a constant threat to nosey pets. Of course, no person wants to risk being sprayed by a startled skunk either.




---
DEAD ANIMAL REMOVAL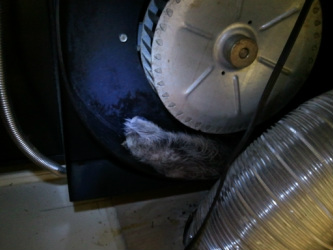 If you smell a dead animal somewhere in your attic or under your home chances are its about to get alot worse. Dead animals attract all matter of vermin and disease, not to mention other animals that come to feed on the carcass. Besides the smell, the sight is also offensive. If an animal has died on your property and you do not wish to dispose of it by yourself because of health concerns or other reasons we will clean it up for you. If the dead animal(s) is within the structure of your house we can find its location and remove it. This may involve some dismantling, for example, the removal of drywall behind which a dead carcass is located. We will clean and deodorize the affected area.


---
NUTRIA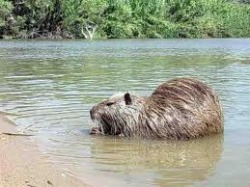 Nutria are members of the rodent family. Adult nutria are about 14 inches long from the nose to the base of the tail. The tail itself is 12 to 17 inches long, round, and hairless. Nutria average 15 to 20 pounds in weight.

Nuisance Concerns:

They can disrupt catfish farming, destroy rice and sugar fields, and disrupt flood control. Nutria tear out aquatic plants by the roots to eat them often destroying bulkheads. When nutria eat all of the grasses in a marsh, the ecosystem is disrupted. The roundworms infesting nutria can cause health problems for man. The roundworm larvae is present in the water where nutria are found, and this larvae can penetrate human skin. Known as "nutria itch", severe inflammation can result, which requires medical attention.


---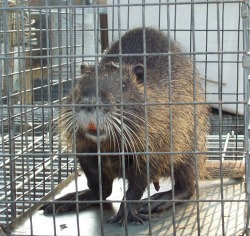 Keywords and Tags:
animal conrtol, montgomey county animal control, animal control in montgomery county, animal removal, spring animal removal, spring animal control, rodent control, rodent removal, rodent control, conroe animal control, conroe animal removal, tomball animal control, tomball animal removal, houston animal control, houston animal removal, magnolia animal control, magnolia animal removal, wildlife control, wildlife removal, wildlife trapping, animal trapping, rat, mice, mouse, opossum, nutria, squirrel, raccoon, skunk, armadillo, dead animal, squirrel removal, squirrel in attic, squirrel control, opossum removal, opossum trapping, raccoon removal, raccoon trapping, skunk removal, skunk control, skunk trapping, attic trapping, armadillo removal, feral cat removal, pest removal, pest control, conroe pest, houston pest, tomball pest, magnolia pest, montgomery county pest, houston wildlife, conroe wildlife, tomball wildlife, same day service, get rid of squirrel, get rid of shunk, get rid of opossum, get rid of raccoon, get rid of rats, get rid of mice, rat trap, mouse trap, pest control, squirrel in attic, opossum in attic, raccoon in attic, rats in attic, roof rats, magnolia pest control, conroe pest control, woodlands pest control, woodlands animal control, woodlands animal removal, woodlands squirrel removal, houston pest control, tomball pest control,woodlands rodent control, houston rodent control, conroe rodent control, woodlands squirrel removal, spring pest control, nuisance animal, nuisance pest, nuisance rodent, nuisance wildlife, critter control, critter removal, critter trapping, critter relocation, critter getter, nuisance critter, conroe critter, tomball critter, houston critter, magnolia critter, woodlands critter, montgomery county critter, dead critter, critter in attic, critter under house, squirrel removal houston, squirrel removal conroe, squirrel removal woodlands, squirrel removal spring, fox removal, fox control, bobcat removal, bobcat control, coyote removal, coyote control, feral hog removal, preadator removal, glenloch farms. advocare